The YSC HD803 is the ultimate 3D rotational viewing digital microscope using the most advanced high definition digital camera technology to deliver full 1080p resolution in HD quality and full motion video at 60 frames per second with no lag time on a 22" HD Samsung monitor. The YSC HD803 digital microscope offers a magnification of 30x-210x with a working distance of 1" (25mm) when using the 45° oblique angle viewer versus a working distance of 3.5" (90mm) without the angle adapter for straight viewing. The rotating 45° oblique angle feature allows the user to view components at a 45° angle and rotate around the center axis to view from other directions without moving or tilting the part. The speed and direction of the motorized rotation can be controlled using the controller box. Adapters for 25°, 35°, and 55° are available upon request.
The system offers uniform adjustable LED lighting for high image quality with good depth of field. The system is ideal for production, QA and FA inspection, training, real-time viewing, and documentation. The lens offer detent click stops which is ideal for video measurement applications. An optional 2x lens can be used to increase the magnification up to 420x. The HD803h model starts at 60x - 420x magnification, and can be integrated with the additional 2x lens for a magnification of up to 840x.
The YSC HD800 HD high definition digital camera has an HDMI output and a micro SD card reader for direct image and video capture. Still images can be saved in 3264x1836 (6 megapixels) and motion HD video can be captured in 720p. No computer is needed for image or video capture, however there is a USB output option available for direct con-nection to a computer or measurement software application. The YSC HD803 can be configured with various stand, lighting, and measurement accessories.

Applications

· Assembly
· Production
· Quality Control
· Failure Analysis
· Process Control
· Measurement
· SMT
· Electronics
· Medical Device
· Machining
· Aerospace
· Natural Science
· Training
· Documentation
Benefits

· Motorized 3D Rotational Viewing (Standard: 0° and 45°, Optional: 25°, 35°, 55°)
· High Definition HD 1080p digital microscope
· Healthy Ergonomics: Less eye fatigue and neck stress
· Great Depth of Field
· Adjustable Viewing Angles (0 to 90 degrees)
· Real Time Full Motion HD1080p 60fps
· HD Video Display
· Large 22" HD monitor for discussion or training purposes
· Save images with 6 megapixel resolution to micro SD card
· HD 720p video motion can be recorded
· Full camera, lens, and lighting adjustments
· XY measurement stage options available
· Internal micro SD card for direct image and video recording (NO computer needed)
· Different stand options
· Measurement software option available
XY Measurement Stage
15" x 15" XY Stage
Angle Adapters:
Standard: 0°, 45°
Optional: 25°, 35°, 55°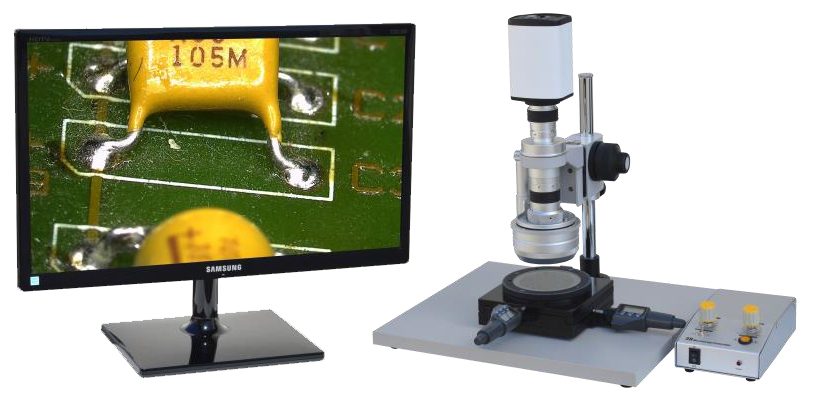 YSC HD803 with XY Measurement Stage
| | |
| --- | --- |
| | |
| YSC HD803 with Universal Boom Stand | YSC HD803 with XY Moving Stage |
Part Number:

AD-25

AD-35

AD-45
(standard)

AD-55

RC-2X

Magnification

same

same

same

same

2x

Working Distance

36 mm (1.42")

27 mm (1.06")

25 mm (0.98")

16 mm (0.63")

90 mm (3.54")

Viewing Angle
(From Vertical)

25°

35°

45°

55°

Straight
Field of View
(Diagonal):

Video Magnification
on 22" HD Monitor:

45° Angle Viewing
Working Distance:

Straight Viewing
Working Distance:

HD803

18.5 mm - 2.7 mm
0.72" - 0.10"

30x - 210x

25 mm
0.98"

90 mm
3.54"

HD803h

9.2 mm - 1.3 mm
0.36" - 0.05"

60x - 420x

25 mm
0.98"

90 mm
3.54"