YSC Image Pro Ultra Software Features: [Click here for 7 day free trial]
Video measurement software is very easy to use. As long as you can see the part inside the computer screen, then you can measure. Calibrations for different magnifications can be stored. Just measure the way you calibrated. Accuracy is depending on the horizontal field of view since pixels across the screen is fixed. FAQ.
Distance
Point to Point
Circle Radius
Circle Area
Angle
Line Width
Parallel Line Measurement
Area
Motion Video Recording
JPG Image Capture
| | |
| --- | --- |
| | Super-impose 3 different depth of field images into 1 superior image with great dept of field. (Please see sample images below) |
| | |
| --- | --- |
| | Tile images with narrow field of view into 1 image with large combined field of view. (Please see sample images below) |
3D digital video microscope rotational viewing allows inspection from oblique angle to see things not possible with typical 2D scope.
Integrated LED lighting eliminates the need for external light box, light guide and light bulb replacement.
Full control of motorized rotation (speed, direction, stop)
Other oblique angle viewing adapters (25, 30, 35, 40 degree, etc.)
YSC Image Pro Ultra video measurement and image processing software
Extensive stand options including back lighting
Long working distance
XY and Z-height measurement accessory
Easy removal of oblique viewing adapter for top-down viewing and inspection
Applications:
SMT solder joints, QFP, capacitors, connectors, wire bonds, die fill, medical stents, medical devices, chemical powders, and YOUR APPLICATION.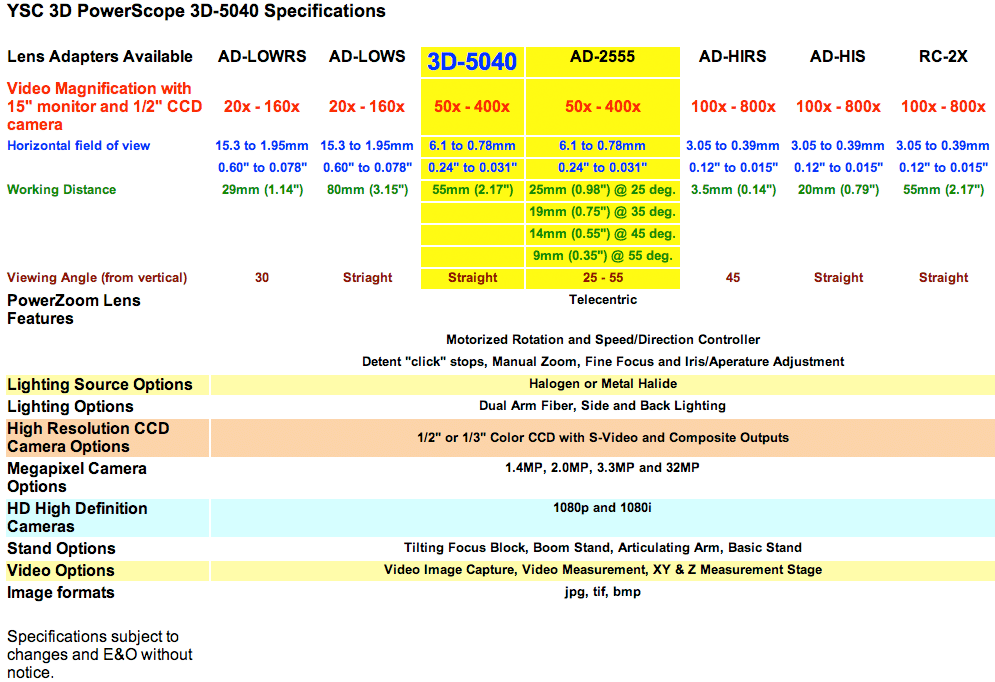 3D Microscope Features You Are Sure to Love
Not all microscopes are created equally. Basic analog microscopes are suitable for beginners. LCD digital microscopes are suitable for a higher level of use, but a 3D microscope is the top-of-the-line option when it comes to microscopes. Unlike some of the basic microscopes that are sold, 3D microscopes have some very cool features that you are sure to love, especially if you use your microscope on a regular basis or for very intricate work.
Measurement Options for a 3D Microscope
One of the neatest features that a 3D microscope offers is the ability to easily take measurements of your specimen. You can take overall measurements, but there may be times when you need more specific measurements. If you have a 3D microscope, you are in luck. When you are using a 3D microscope, especially a top-of-the-line model, you can usually take a variety of measurements very easily. From 2-axis measurements to 3-axis measurements, a 3D microscope can meet your needs.
Many of these high-tech microscopes also have a nice video feature that lets you take manual measurements. In this case, the magnification level is noted so that your manual measurements will be as accurate as possible. You can usually take a video of the method you use to measure the specimen if you are using an all-inclusive 3D microscope.
Multiple measurement options on most models of a 3D microscope let you combine various forms of getting measurements. Not only does this make getting a full set of measurements simple, it also helps to ensure the complete accuracy of your measurements. This is useful when you don't have a wide window for variances in measurements.
Unique Mapping Options of a 3D Microscope
A 3D microscope gives you the opportunity to truly get a feel for what you are analyzing with the mapping features that are fairly standard. It is important to note that while these features are fairly standard, they are also very basic without upgrading them, so be sure to carefully consider your projects when trying to decide if the upgrades are necessary. These provide you with a depth-accurate model of what the surface of the specimen looks like. You can also use this feature to compare various specimens side by side to determine the similarities and variances between them. When you are using the mapping options for a 3D microscope, you should be sure that you understand the instructions, as one simple slip of the finger when you are setting the parameters can lead to an improperly represented specimen model.
Optional Profiling Features That May be Helpful
Profiling features are a common upgrade that can to make your 3D microscope more versatile. These features can help you to better understand the specific characteristics of your specimen. In order to fully utilize this optional feature, you should also upgrade the scopes and sensors of your microscope. A call to YSC Technologies can help you decide if you need a laser sensor, a con-focal sensor or a white light sensor.