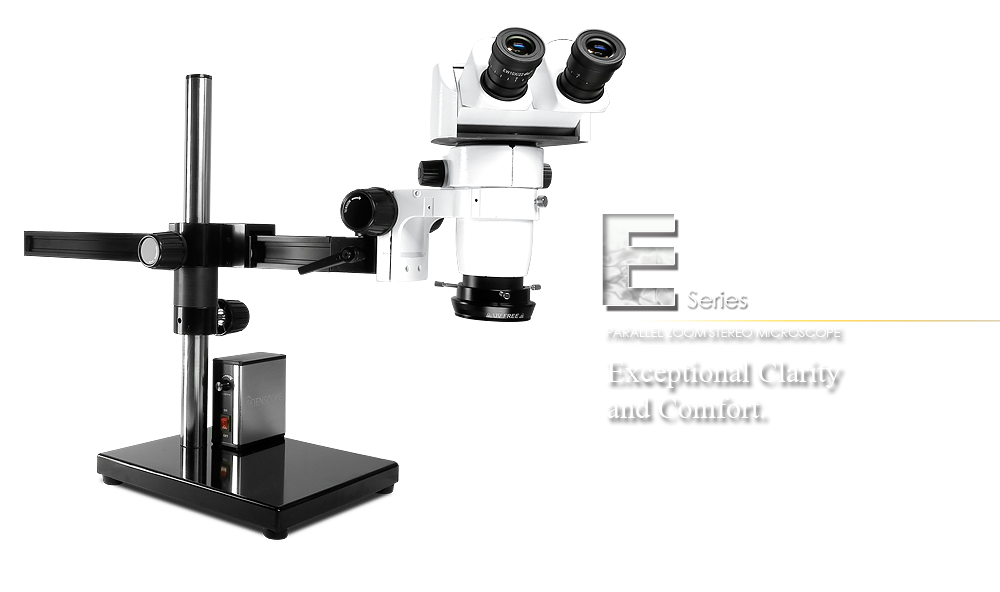 E-Series Parallel Zoom Stereo Binocular Microscope Packages

The first ever parallel stereo zoom microscope system from Scienscope. This microscope is comparable to leading brand manufacturers, see it for yourself. Years of development and design have yielded the first affordable high performance system of its kind.

There are two types of optical heads available: Tilting or Fixed. The new Tilting/Ergo Head truly resolves the headaches associated with using a stereo microscope continuously. The Ergo head allows up to 45 degrees of tilt/positioning capability and 180 degrees of rotating capability to accommodate operators of any height or bench position of the stereo microscope. The Fixed head provides a 20 degree inclination with extended eye tubes for fatigue reduced viewing.

All E series microscopes are easily upgradeable to a Trinocular (Video Camera) port for on-screen viewing and image capture at mega pixel resolution. Compare the quality and price of the E series to other name brand systems of the parallel category and we are confident that you will be pleasantly surprised.

20° fixed head


Eyepiece inclination of 20° allow you to observe without having the lean forward which reduces fatigue during long hours of operation.

Ergonomic tilting and rotating head


Eyepieces tilt and rotate to adjust for operator height. Eyepieces rotate 180Eyepeices tilt with 3" travel. Inclination is adjustable from 0° to 45° for optimum user comfort.
Stackable Accessories

A parallel infinity corrected optical system that allows for ergonomic customization and stacking of several components without distorting the image.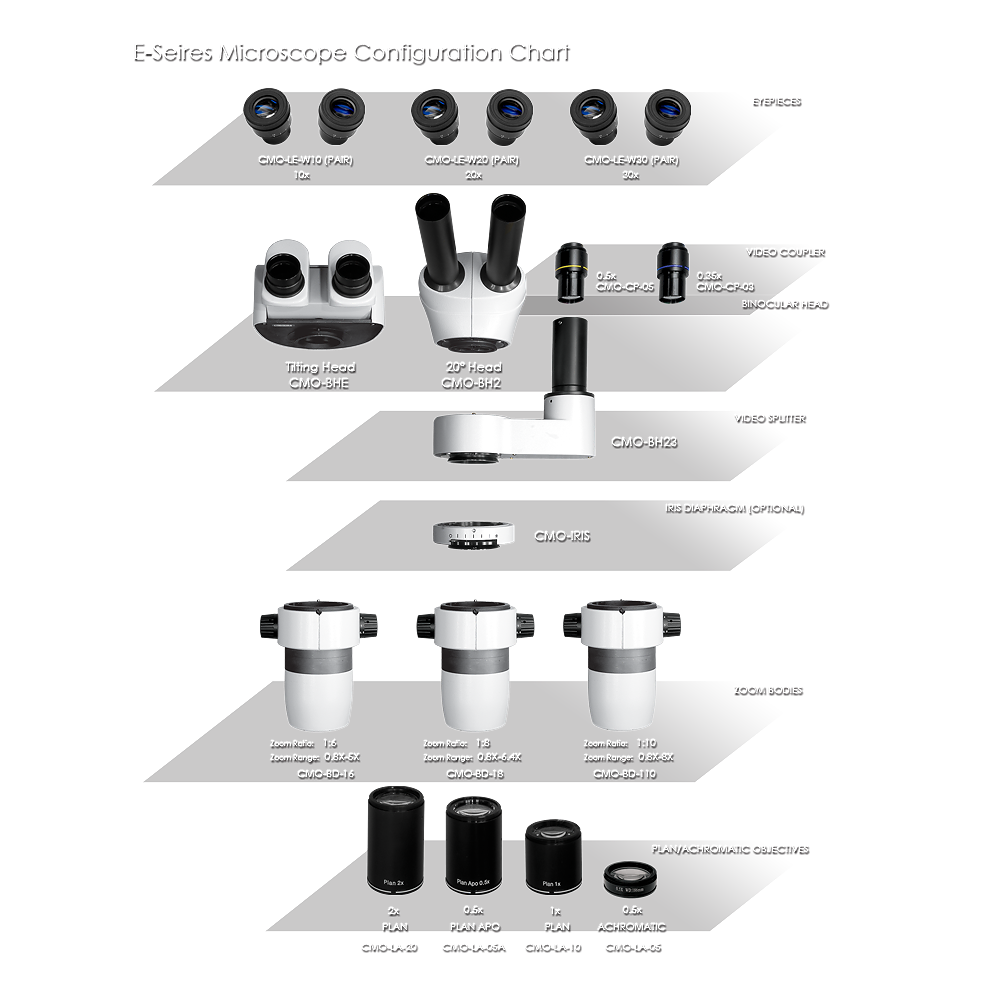 E-Series Data Sheet

Microscope Body Specifications

| | |
| --- | --- |
| Avalible Zoom Bodies Range: | 0.8X - 5X, 0.8X - 6.4X, 0.8X - 8X |
| Zoom Ratio: | 1:6, 1:8, 1:10 (respectively0 |
| Magnification w/ 10X eyepieces | 8X - 50X, 8X - 64X, 8X - 80X (respectively) |
| Field of View | 28.8mm-4.6mm, 28.8mm-3.6mm, 28.8mm-2.9mm (respectively) |
| Working Distance | 78mm |
| Eyepieces Inclination: | 20° and 0° - 45° |
| Dioptric Adjustment: | ±5 Dual Independent |
| Interpupillary Adjustment: | 51mm - 75mm |
| Microscope Ring Mount Diameter: | 76mm |
| Available Eyepieces: | 10X, 20X and 30X |
| Available Objective Lens: | 0.5X Achromatic, 0.5X Plan Apo, 1X Plan, and 2X Plan |
| Available Video Coupler: | 0.35X and 0.5X |
| Available Video Slitter: | Single bean port |
| Optional Iris: | Yes |

E-SERIES OPTICAL SPECIFICATIONS
Objective Lens
Working Distance (mm)
Zoom Body
Eyepieces
10X
20X
30X
Mag
FOV (mm)
Mag
FOV (mm)
Mag
FOV (mm)
0.5X
187mm
1:6
4X - 25X
57.5 - 9.2
8X - 50X
35 - 5.6
12X - 75X
25 - 4
1:8
4X - 32X
57.5 - 7.2
8X - 64X
35 - 4.4
12X - 96X
25 - 3.1
1:10
4X - 40X
57.5 - 5.8
8X - 80X
35 - 3.5
12X - 120X
25 - 2.5
1X
78mm
1:6
8X - 50X
28.8 - 4.6
16X - 100X
17.5 - 2.8
24X - 150X
12.5 - 2
1:8
8X - 64X
28.8 - 3.6
16X - 128X
17.5 - 2.2
24X - 192X
12.5 - 1.6
1:10
8X - 80X
28.8 - 2.9
16X - 160X
17.5 - 1.8
24X - 240X
12.5 - 1.3
2X
35mm
1:6
16X - 100X
14.4 - 2.9
32X - 200X
8.8 - 1.4
48X - 300X
6.3 - 1
1:8
16X - 128X
14.4 - 2.3
32X - 256X
8.8 - 1.1
48X - 384X
6.3 - 0.8
1:10
16X - 160X
14.4 - 1.8
32X - 230X
8.8 - 0.9
48X - 480X
6.3 - 0.6

* Packaged Specifications; Mag. = Magnification, FOV = Field of View, WD = Working Distance


CMO-PK5 Series

[E-Series 20° Fixed Head Binocular on Boom Stand Systems]

This package is designed to support large research grade microscopes, has a smooth gliding motion, and offered resistance to tip-over and vibration.

Systems Include:


Select your system choice of lighting:








CMO-PK5E Series

[E-Series Tilting Head Binocular on Boom Stand Systems]

This package is designed to support large research grade microscopes, has a smooth gliding motion, and offered resistance to tip-over and vibration.

Systems Include:


Select your system choice of lighting:








CMO-PK2 Series

[E-Series 20° Fixed Head Binocular on Dual LED Track Stand]

This stable and compact package is ideal for smaller applications like medical device application or crowded working environments. The track stand provides a continuous smooth vertical travel of 4" with dual LED transmitted and reflected light.

CMO-PK2 System Includes:








CMO-PK2E Series

[E-Series 20° Fixed Head Binocular on Dual LED Track Stand]

This stable and compact package is ideal for smaller applications like medical device application or crowded working environments. The track stand provides a continuous smooth vertical travel of 4" with dual LED transmitted and reflected light.

CMO-PK2E System Includes: