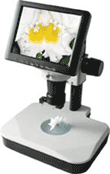 3D-VZ8 Video Microscope with
HF Track Stand

The images under 35° angle view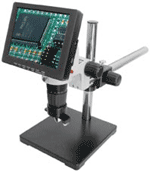 3D-VZ10 Video Microscope with
Boom Stand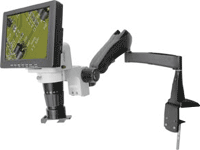 3D-VZ10 Video Microscope with Pneumatic Arm Stand
BENEFITS:
All-in-one design video microscope with LCD monitor
Compact and light weight, low power consumption, 16 million high definition color, Intelligent screen image setting, high contrast and brightness.
Additional video out delivers high resolution color images for microscopy documentation with a capture software compatible with MS Windows based system.
Different stands and illuminators are available.
SPECIFICATIONS
LCD Monitor
Viewable: 8" or 10.4"
Native resolution: 800 x 600
Dot pitch: 0.297mm
Contrast: 300:1
Viewing Angle: about 150°
Brightness: 250cd/m2
Video Output: BNC (PAL / NTSC)
Optics
Total video magnification: 3x ~ 198x
Zoom body: 0.7~4.5X, with detents
Zoom ratio: 1:6.5
Optional objective lens: 0.3X, 0.5X, 0.75X, 1X, 1.5X, 2X
3D attachment: 35° for 0.75X objective lens.
Features
LED ring light: DC 12V, 0.5mA
LED ring light with adjustable brightness.
Optional illuminator is available.
Laser pointer: DC 5V
Body size: 76mm, suitable for all microscope stands, boom stands and flexible arm stands.
Power supply: 85-265V, 50/60Hz
0.7~4.5X Zoom Body with detents
Laser pointer, easy to find the objective
35° Angle 3D
Attachment
Build-in LED Ring Light
Video Output